CYBERPUNK 2077 Has Been Officially Pushed Back by CDP Red; Will Now Launch in September
CDP Red has seemingly decided to follow in Square Enix's footsteps — as Cyberpunk 2077 joins Final Fantasy VII: Remake and Marvel's Avengers as yet another highly anticipated video game that has been pushed back from its original release date. 
As revealed by CDP, Cyberpunk 2077 won't hit stores on April 16 — as it's new launch day is the 17th of September.
"We are currently at a stage where the game is complete and playable, but there's still work to be done. Night City is massive – full of stories, content, and places to visit, but due to the sheer scale and complexity of it all, we need more time to finish playtesting, fixing and polishing," CD Red explained in a special note to fans. "We want Cyberpunk 2077 to be our crowning achievement for this generation and postponing the launch will give us the precious months we need to make the game perfect."
Given that the studio's own The Witcher III: Wild Hunt had also been delayed a couple of time before its successful debut in 2015, it's good to know that CDP will have more time to polish the role-playing game.
With Cyberpunk 2077 being delayed to September, chances are that the title will be shown at Microsoft's E3 press conference for the third year in a row. The question is — will Keanu return to steal the show, too?
We have important news regarding Cyberpunk 2077's release date we'd like to share with you today. pic.twitter.com/aWdtR0grYV

— CD PROJEKT RED (@CDPROJEKTRED) January 16, 2020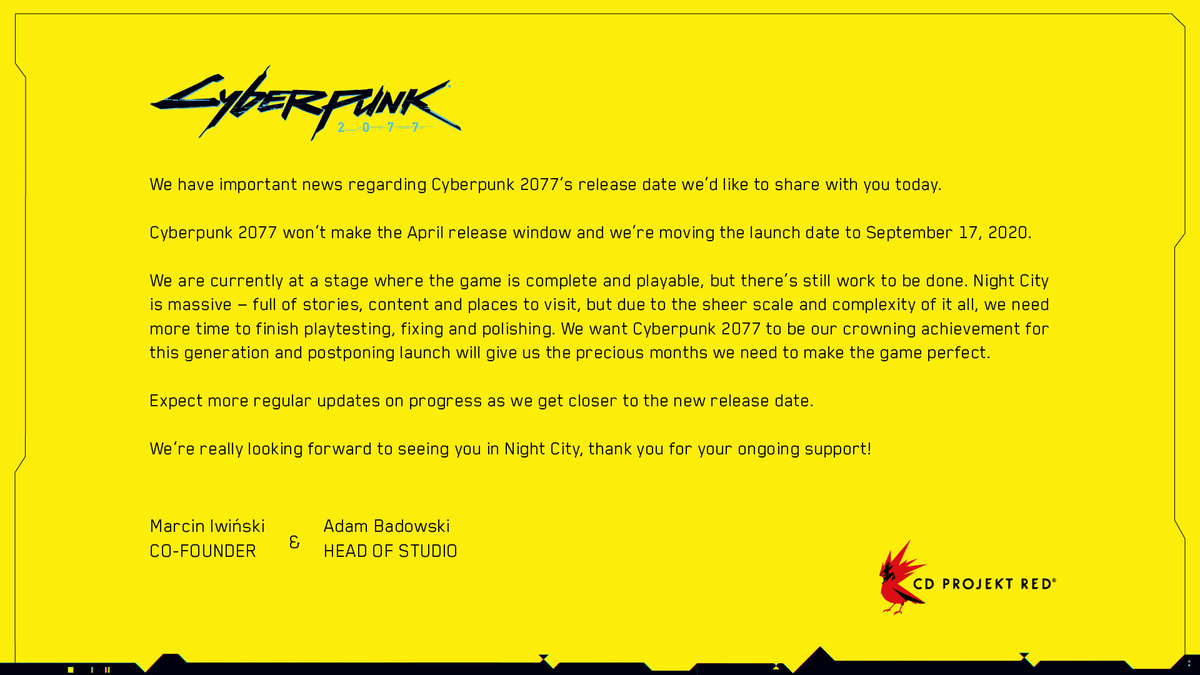 Cyberpunk 2077 is an open-world, action-adventure story set in Night City, a megalopolis obsessed with power, glamour and body modification. You play as V, a mercenary outlaw going after a one-of-a-kind implant that is the key to immortality. You can customize your character's cyberware, skillset and playstyle, and explore a vast city where the choices you make shape the story and the world around you.
Cyberpunk 2077 will be available for PlayStation 4, Xbox One, Google Stadia and PC (via Steam, GOG and the EGS) on the 17th of September.
ABOUT THE AUTHOR: Bartosz Sobczak - Owner, Editor-in-Chief
Lawyer by day, video game reporter by night. Long-time fan of the Mass Effect, Age of Empires, Prince of Persia, BioShock — especially the second one — and Splinter Cell series (who still believes that the best is yet to come). Tries his hardest to shine a new light on the Polish game-development scene. Gameplay Mechanix is his biggest passion project to date. Often listens to old episodes of The Late Late Show with Craig Ferguson while writing. Privately a cat person.
Comments for this thread or now closed...