Alyx Is Ready for New Adventure on Edge Magazine's Cover; Gabe Newell Talks HALF-LIFE 2 Prequel
It may be hard to comprehend, but Half-Life: Alyx really hits stores around the globe this Monday, allowing all fans of the classic Valve-developed game series to dive back into City 17 — this time only as a virtual reality experience.
Although Alyx will be released on March 23, those who already know that it won't be enough can always check out the latest Edge Magazine subscription offers to get an early look at the Half-Life interquel.
That's right, Alyx is the main star of the next issue of Edge Magazine. While subscribers will get it digitally in the coming days, the magazine's print edition will go on sale on April 26 through all major newsagents.
According to the staff, Edge #344 will answer a very important question: "Should we even see Valve as a videogame developer anymore?" That's obviously not all, as the upcoming issue will be packed with Half-Life–related content, including a review of Alyx and an exclusive interview with the one & only Gabe Newell.
If you prefer video interviews, IGN recently sat down with the legendary Valve co-founder and asked him about the future of his company and Steam, as well as Half-Life's impact on popular culture. Check it out: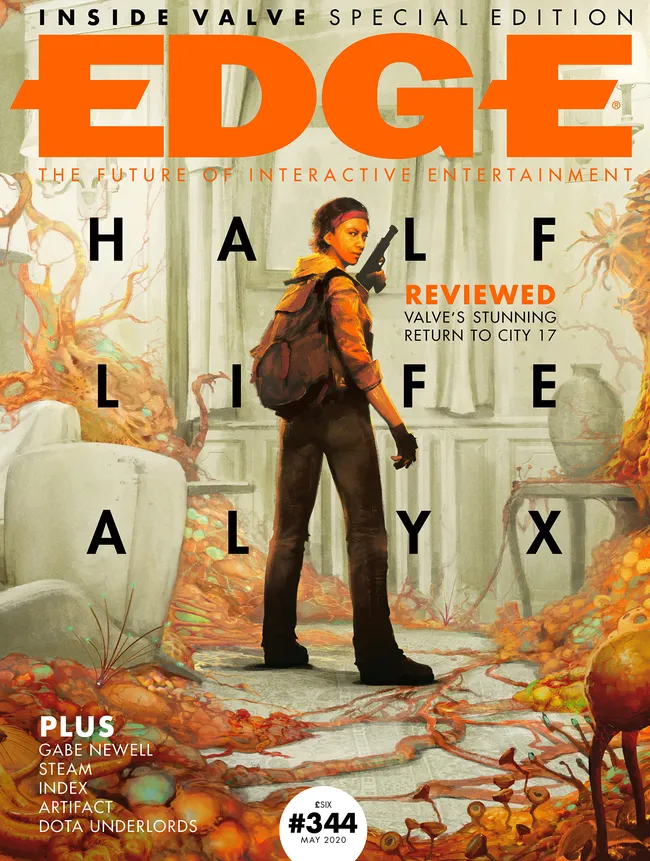 Half-Life: Alyx is Valve's VR return to the Half-Life series. It's the story of an impossible fight against a vicious alien race known as the Combine, set between the events of Half-Life and Half-Life 2. Playing as Alyx Vance, you are humanity's only chance for survival. The Combine's control of the planet since the Black Mesa incident has only strengthened as they corral the remaining population in cities. Among them are some of Earth's greatest scientists: you and your father, Dr. Eli Vance.
Half-Life: Alyx releases on March 23, 2020; compatible with the Valve Index, HTC Vive, Windows Mixed Reality and Oculus Rift headsets.
ABOUT THE AUTHOR: Bartosz Sobczak - Owner, Editor-in-Chief
Lawyer by day, video game reporter by night. Long-time fan of the Mass Effect, Age of Empires, Prince of Persia, BioShock — especially the second one — and Splinter Cell series (who still believes that the best is yet to come). Tries his hardest to shine a new light on the Polish game-development scene. Gameplay Mechanix is his biggest passion project to date. Often listens to old episodes of The Late Late Show with Craig Ferguson while writing. Privately a cat person.
Comments for this thread or now closed...