Skydance Tries to Bring THE WALKING DEAD: SAINTS & SINNERS to PSVR This Spring Despite COVID-19 Threat
Considering that the next major PS VR title — Iron Man VR — has been delayed to May, the headset could use some third-party support, and Skydance will do their best to release The Walking Dead: Saints & Sinners on PSVR this spring. Unfortunately, it's not clear when said port of Saints & Sinners will make its debut.
According to Skydance, the ongoing pandemic has made the works on S&S more difficult than ever before.
"These are extraordinary and challenging times. Like everyone, we're adjusting as best we can, but rest assured we're working our hardest to get Saints & Sinners out to you on PSVR this Spring. We appreciate all of your ongoing support, excitement and patience during this time," the studio said on Twitter recently. "[The game's Oculus] Quest [version] is slated for late this year," Skydance added.
Quite surprisingly, S&S is not a traditional shooter or survival game, but rather a full-blown role-playing title.
Taking into account that the PC edition of S&S is one of the best-reviewed The Walking Dead video games in history — currently sitting at a fantastic 81% score on Metacritic — fans of PSVR should definitely keep an eye on the critically acclaimed project's next version (and play Éric Chahi's Paper Beast in the meantime).
March 27, 2020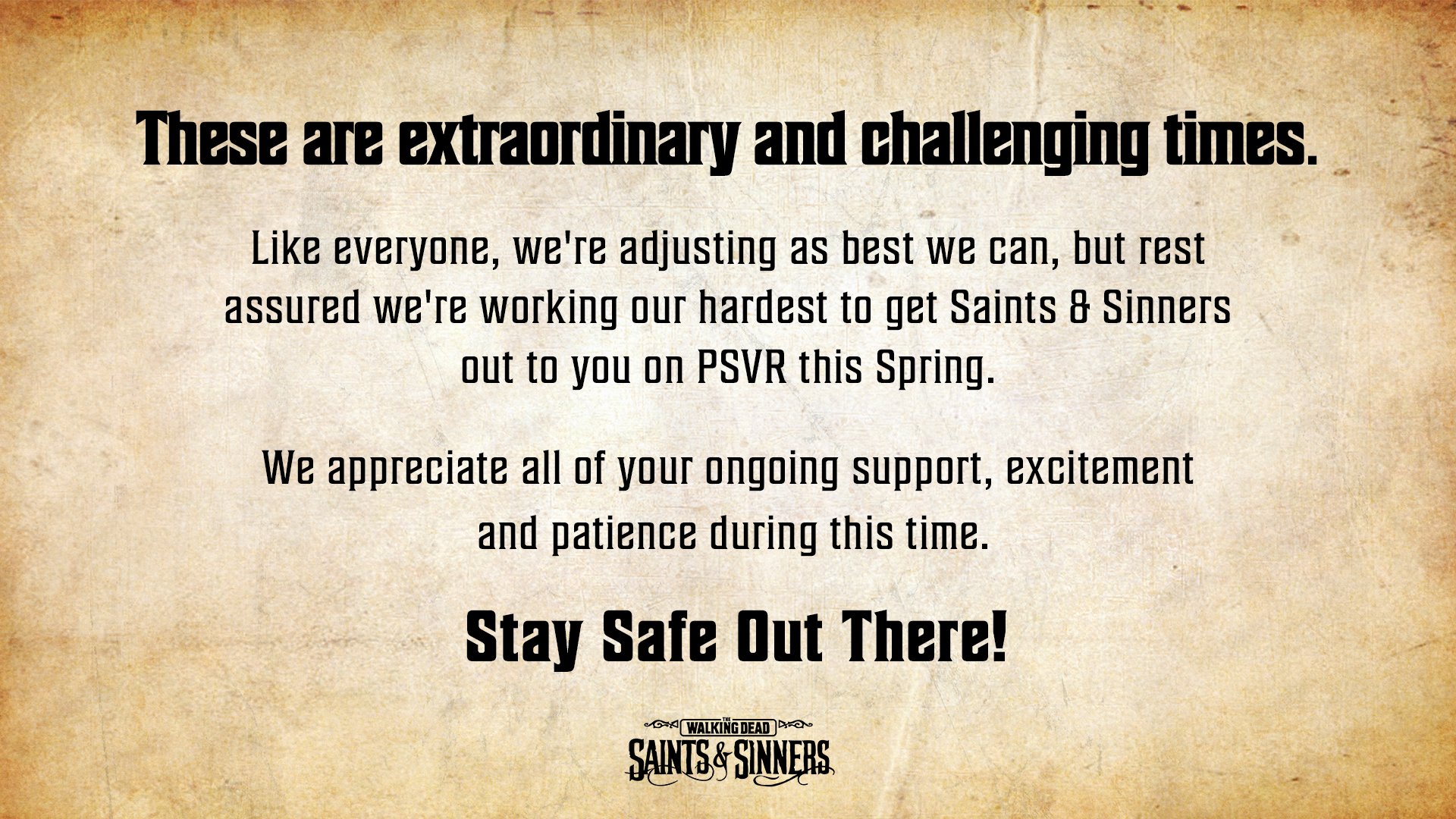 Saints & Sinners is a game unlike any other in The Walking Dead universe. Every challenge you face and decision you make is driven by YOU. Fight the undead, scavenge through the flooded ruins of New Orleans, and face gut-wrenching choices for you and the other survivors. Live The Walking Dead's dark drama in your own skin.​
The Walking Dead: Saints & Sinners is out now; compatible with the Valve Index, HTC Vive, Windows Mixed Reality and Oculus Rift headsets; coming to PS VR this spring; the Oculus Quest version will launch later this year.
ABOUT THE AUTHOR: Bartosz Sobczak - Owner, Editor-in-Chief
Lawyer by day, video game reporter by night. Long-time fan of the Mass Effect, Age of Empires, Prince of Persia, BioShock — especially the second one — and Splinter Cell series (who still believes that the best is yet to come). Tries his hardest to shine a new light on the Polish game-development scene. Gameplay Mechanix is his biggest passion project to date. Often listens to old episodes of The Late Late Show with Craig Ferguson while writing. Privately a cat person.
Comments for this thread are now closed...