Sony's THE LAST OF US PART II and MARVEL'S IRON MAN VR Have Been Delayed "Until Further Notice"
Sony has just announced that both The Last of Us Part II and Iron Man VR have been pushed back, which means that you won't be able to play these two highly anticipated PlayStation 4–exclusive titles this May like originally planned. Unfortunately, yet another delay is nothing new when it comes to both video games.
After a series of setbacks, The Last of Us Part II was supposed to hit stores on May 29, while Iron Man VR's latest release date was May 15 — sadly, it's not clear when any of these projects will actually launch now.
"The good news is, we're nearly done with development of The Last of Us Part II," developer Naughty Dog explained in a newly released statement. "However, even with us finishing the game, we were faced with the reality that due to logistics beyond our control, we couldn't launch The Last of Us Part II to our satisfaction. We want to make sure everyone gets to play The Last of Us Part II around the same time, ensuring that we're doing everything possible to preserve the best experience for everyone. This meant delaying the game until such a time where we can solve these logistic issues."
Given that the COVID-19 pandemic has forced even the biggest Hollywood players to change their 2020 release schedules, the fact that Sony decided to delay some of its releases shouldn't be too surprising. 
In the current climate, chances are that the June release of Ghost of Tsushima will also be postponed.
Currently, there are no other delays to report, but we'll keep you updated.

— PlayStation (@PlayStation) April 2, 2020
A message from us about the delay of The Last of Us Part II: pic.twitter.com/aGsSRfmJ8a

— Naughty Dog (@Naughty_Dog) April 2, 2020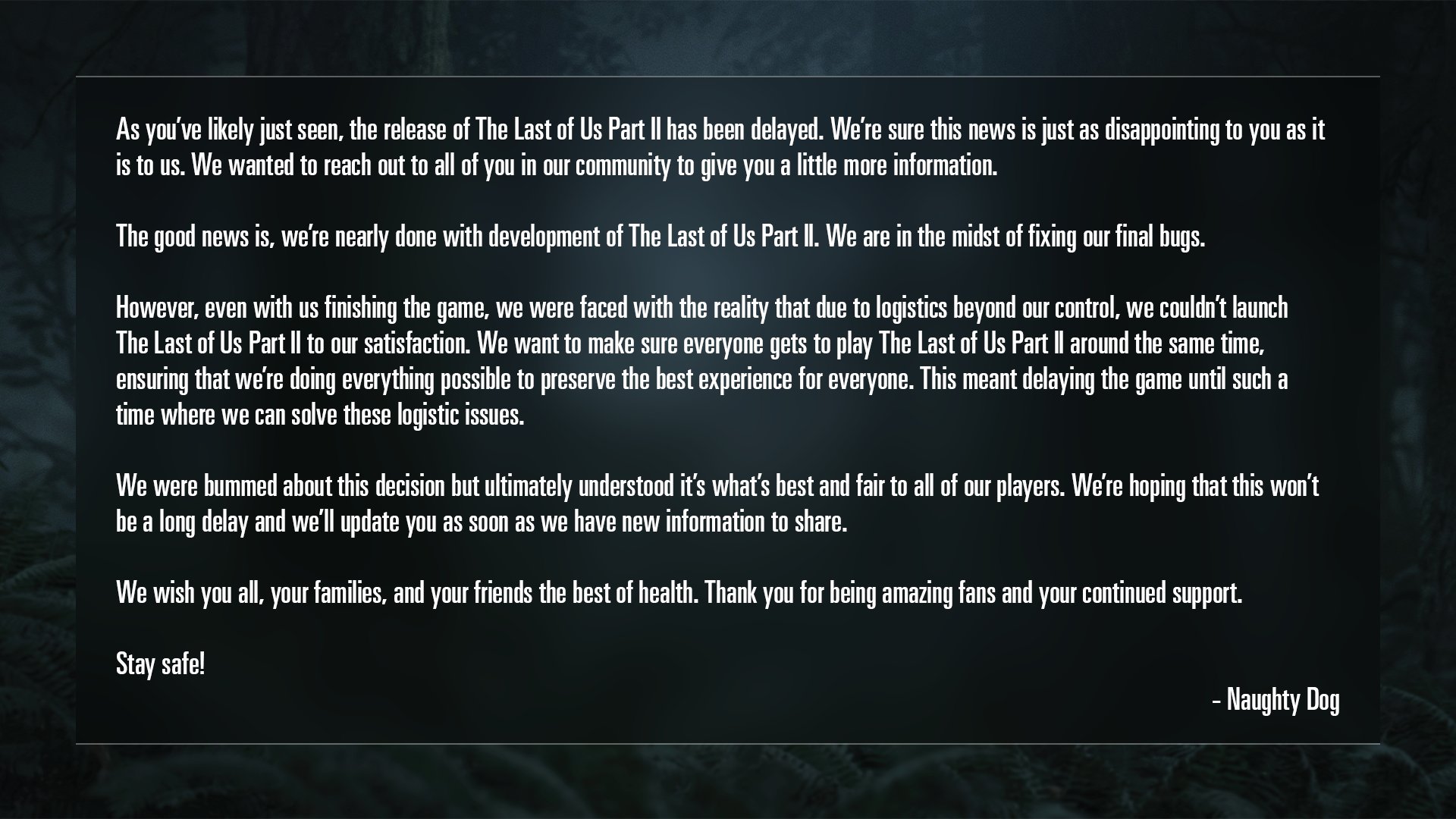 ABOUT THE AUTHOR: Bartosz Sobczak - Owner, Editor-in-Chief
Lawyer by day, video game reporter by night. Long-time fan of the Mass Effect, Age of Empires, Prince of Persia, BioShock — especially the second one — and Splinter Cell series (who still believes that the best is yet to come). Tries his hardest to shine a new light on the Polish game-development scene. Gameplay Mechanix is his biggest passion project to date. Often listens to old episodes of The Late Late Show with Craig Ferguson while writing. Privately a cat person.
Comments for this thread are now closed...