Square Enix Shipped and Digitally Sold Over 3.5 Million Units of FINAL FANTASY VII REMAKE in First Three Days
Nothing stops this train, as publisher Square Enix has proudly announced that it "shipped and digitally sold over 3.5M copies of Final Fantasy VII Remake" in its first three days, making it one of the fastest-selling PlayStation 4 exclusives in history. The current record-holder — 2018's Marvel's Spider-Man — sold 3.3 million units in its first three days of release, edging out God of War's "opening weekend" of 3.1 million.
According to Square Enix, the remake's "digital sales in particular have been very strong, and continue to grow." Considering that Final Fantasy VII Remake in not only a best-selling, but also an acclaimed title, it's safe to say that the beloved game's sales performance will remain strong for years to come. 
Although Final Fantasy VII Remake is a huge hit, it probably won't become the best-selling entry in the long-running series anytime soon, as 2016's Final Fantasy XV sold more than 5 million copies on its launch day.
Obviously, it's worth remembering that Final Fantasy XV was originally released for both PS4 and Xbox One — its PC port hit stores in 2018 — so comparing their sales figures is kind of pointless at the moment.
Although Square Enix has not confirmed this information yet, chances are that Final Fantasy VII Remake will come to Xbox One and PC sometime next year, as it's a timed PlayStation 4 exclusive until March 2021.
We're proud to announce we shipped and digitally sold over 3.5M copies of #FinalFantasy VII Remake in 3 days! ?

All of us would like to raise our Buster Swords to say THANK YOU to everyone who has supported us during launch, we hope you're all enjoying the game! #FF7R pic.twitter.com/4m93Op7O9I

— FINAL FANTASY VII REMAKE (@finalfantasyvii) April 21, 2020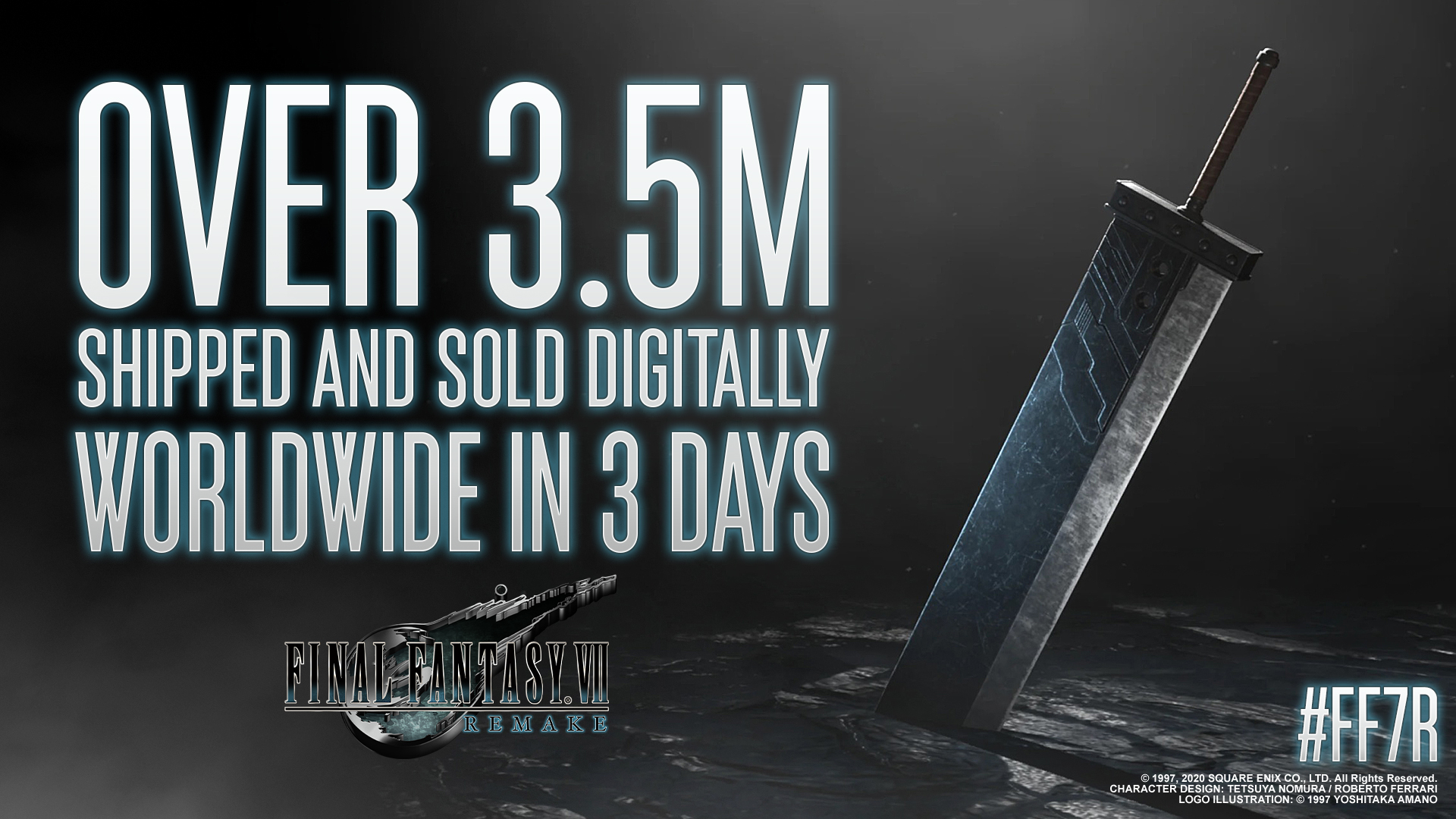 The world has fallen under the control of the Shinra Electric Power Company, a shadowy corporation controlling the planet's very life force as mako energy. In the sprawling city of Midgar, an anti-Shinra organization calling themselves Avalanche have stepped up their resistance. Cloud Strife, a former member of Shinra's elite SOLDIER unit now turned mercenary, lends his aid to the group, unaware of the epic consequences that await him. The story of this first, standalone game in the FINAL FANTASY VII REMAKE project covers up to the party's escape from Midgar, and goes deeper into the events occurring in Midgar than the original FINAL FANTASY VII.
Final Fantasy VII: Remake is currently available for PlayStation 4.
ABOUT THE AUTHOR: Bartosz Sobczak - Owner, Editor-in-Chief
Lawyer by day, video game reporter by night. Long-time fan of the Mass Effect, Age of Empires, Prince of Persia, BioShock — especially the second one — and Splinter Cell series (who still believes that the best is yet to come). Tries his hardest to shine a new light on the Polish game-development scene. Gameplay Mechanix is his biggest passion project to date. Often listens to old episodes of The Late Late Show with Craig Ferguson while writing. Privately a cat person.
Comments for this thread or now closed...