THE LAST OF US PART II Makers Address Recent Leaks and Ask Players to Do Their Best to Avoid Spoilers
Naughty Dog — the award-winning game developer responsible for the Uncharted tetralogy and The Last of Us — has finally decided to address the major leak that basically spoils just about every major plot twist of The Last of Us Part II. Unfortunately, the Santa Monica-based studio just confirmed that the spoilers are real.
"We know the last few days have been incredibly difficult for you," the company's official statement reads. "We feel the same. It's disappointing to see the release and sharing of pre-release footage from development. Do your best to avoid spoilers and we ask that you don't spoil it for others."
Although the situation is rather grim, Sony announced today that The Last of Us Part II will now make its debut on the 19th of June. The wait won't be easy, and avoiding forums and comment sections (and even YouTube) for the next two months seems like a no-brainer if you don't want the game to be spoiled for you.
According to various unofficial reports and rumours floating around the Internet, these dev build leaks are from a disgruntled Naughty Dog employee who was "tired of being mistreated." Even though the studio is known for extremely intense crunch, that hot-headed person has willingly made the development process even more difficult for their fellow workers — who probably are devastated that their hard work just leaked.
Take a look at Naughty Dog and Game Director Neil Druckmann's heartfelt message to fans down below:
Heartbroken for the team. Heartbroken for our fans. We're still incredibly excited to get the game into your hands. ❤️ https://t.co/QWKLU6I6Q3

— Neil Druckmann (@Neil_Druckmann) April 27, 2020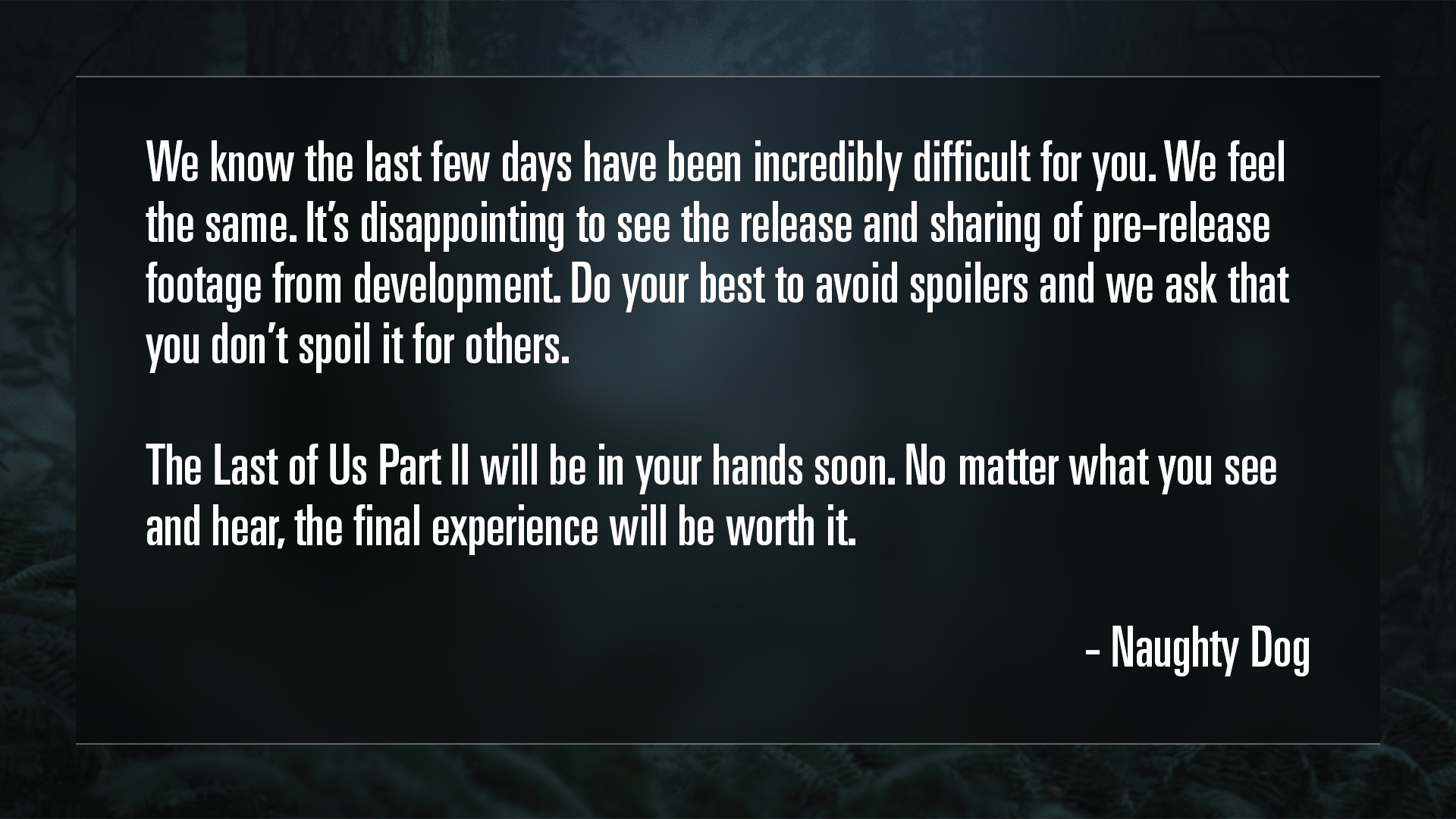 Five years after their dangerous journey across the post-pandemic United States, Ellie and Joel have settled down in Jackson, Wyoming. Living amongst a thriving community of survivors has allowed them peace and stability, despite the constant threat of the infected and other, more desperate survivors.
The Last of Us Part II is coming to PlayStation 4 on June 19, 2020.
ABOUT THE AUTHOR: Bartosz Sobczak - Owner, Editor-in-Chief
Lawyer by day, video game reporter by night. Long-time fan of the Mass Effect, Age of Empires, Prince of Persia, BioShock — especially the second one — and Splinter Cell series (who still believes that the best is yet to come). Tries his hardest to shine a new light on the Polish game-development scene. Gameplay Mechanix is his biggest passion project to date. Often listens to old episodes of The Late Late Show with Craig Ferguson while writing. Privately a cat person.
Comments for this thread are now closed...